Emotional Freedom Technique, or "tapping" is a way to release trauma, stress, blocked emotions, and pain through gently tapping specific points which correspond to accupressure or accupuncture points on the body. There are no needles or tools needed, and the process works with the brain and nervous system to create incredible change in the emotions immediately.
EFT has been found to produce effective results treating PTSD. (Click here for the study.) It's a gentle, non-invasive healing technique that works with the body's own energy system, nervous system, and brain through gentle taps to restore balance to the emotions, mind, and body.
As a Level 2 Certified EFT Practitioner, I'm ready to help you experience powerful change.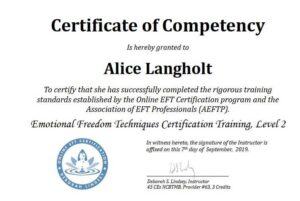 Book your EFT session below.